POSTSCRIPT ON NERVOUS DIGITAL SYSTEMS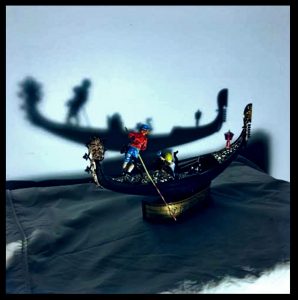 Performance by
Michael Taussig:
The Revenge of the Sirens
Wednesday 12. February 2020, 19:30h
rhiz.wien  U-Bahnbogen 37, A-1080
Video: Michael Taussig / The Revenge of the Sirens 
Videoshort: The Revenge of the Sirens ( 140 sec.)
A Tale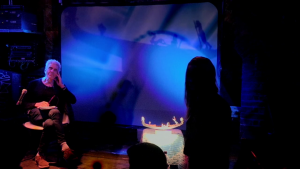 of Meltdown & the Metamorphic Sublime in four acts, the stage being a shadow on the wall, the shadow of the past meeting the future as dialectical image.
"Beauty is death. But the boss thinks he can cheat death so long as we ply the oars while he outwits the gods of nature As we row into the future I see the trickery spreading out in our wake. In this delirium, there is the mastery of non-mastery,  never more germane than in our Age of Meltdown re-enchanting nature."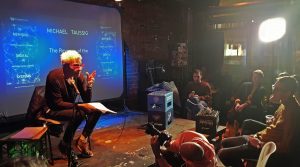 #nervousdigital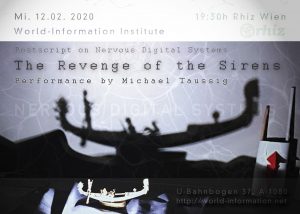 NERVOUS DIGITAL SYSTEMS
29. May 2019 17: 00h Rote Bar, Volkstheater Vienna  
Introduction by Felix Stalder (EN)
Report on Nervous Digital Systems (EN)
Video: Nervous Digital Systems 29.05. 2019
Video: Interview with Michael Taussig 30.05. 2019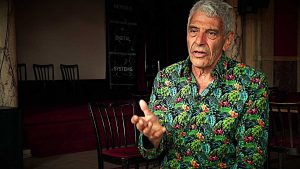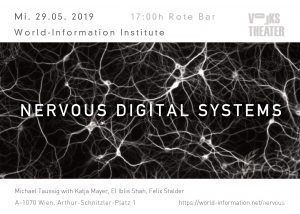 Lecture Perfomance by Michael Taussig and conversation about techno psychic landscapes . With Katja Mayer, El Iblis Shah and Felix Stalder  
In a mediatized environment of learning machines and the transfer of competence from person to machine, Nervous Digital Systems explores the psychological and cognitive effects of contemporary digital networks. Because the secrets of the new information societies lie not only in the shadow areas of ubiquitous technologies, but also in psychological incentive structures, behavioral economics and the human nervous system itself.  
In his presentation, Michael Taussig contrasts a new cosmology of "non-mastery" with pervasive digital optimization concepts. The lecture performance refers to Walter Benjamin's engagement with the juggler Enrico Rastelli and the Chess Turk of Wolfgang von Kempelen to explore control systems:  
"Rastelli, The Juggler, or What Are The Turks Doing In Walter Benjamin's Theses On History And The Bodily Unconscious"  
Michael Taussig, Columbia University NY, is an Australian anthropologist and author of "The Nervous System" and "Mimesis and Alterity: Another story of the senses ".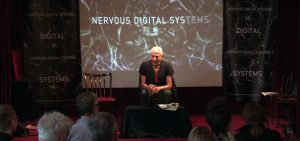 Katja Mayer, University of Vienna, is a sociologist at the Department of Science and Technology Studies and works at the interface of science, technology and society.  
El Iblis Shah, chair of the "Conference on Informational Violence" at Aden Academy of Science researches the politics of machine networks encoding symbolic representations.  
Felix Stalder, Zurich University of the Arts and World-Information Institute, is the author/editor of numerous publications on the intersection of cultural, political and technological dynamics.